Advancing the design of life- and people-friendly cities
On World Cities Day we want to reflect on how cities can be transformed to create more inclusive spaces for all ages. In this context, a few days ago the University of Stirling hosted a seminar on how to make the "High Street" (which in our case would be a Gran Via or Main Street) friendly for people with dementia. Improving design for people with dementia is an issue that the Dementia Service Development Centre (DSDC), a UK research centre with a long track record in dementia-friendly design and evidence-based design, is already working on. The premise is that what is well designed for people with dementia - who are vulnerable and usually excluded from everyday life in the city - will be good design that the rest of the population can enjoy. Recently, their guidelines have started to include design recommendations for outdoor and public spaces. But is it enough to include universal accessibility criteria in the design of our streets and cities to make them friendly to older people or people with dementia?
Given the complexity and speed at which cities change nowadays, the question leads us to reflect on the aspects that seem fundamental to advance in this movement of friendly cities and communities promoted by the WHO. From our experience, we would highlight the following:
Universal accessibility and inclusion
Universal accessibility is a basic condition that should be ensured in the design of a city. Returning to the previous point, good design solves the problems that may be encountered by the multiple users, with their diverse functional needs, who pass through the spaces - physical and virtual - of our cities every day. Hence the word "universal". It is true that in many cities and towns in Spain we have a great challenge due to the topography and layout of their streets, but there are always design solutions that, together with technological advances, can significantly improve access and usability of spaces.
But it is important to stress that we must go beyond ensuring accessibility just for the sake of "being able to get there", it is about improving the routes for people so that they are the most comfortable, pleasant, interesting, stimulating and beautiful, and not just a mere geometric fit of ramps and routes (unquestionably necessary).
Citizenship and inclusion, breaking the stigma
Only by facilitating routes and access do we neglect another fundamental component. Friendliness also goes hand in hand with an inclusive community that is empathetic to the needs of all, and open to providing a friendly and welcoming response. We may call it awareness-raising, but in an increasingly individualistic society, this ability to put oneself in the other person's shoes does not often emerge on its own.
In the UK, too, training programmes to break down the stigma of dementia stand out, and greater awareness and sensitivity to dementia has led to the identification of good inclusive practices in supermarkets, churches and parishes, museums, cinemas and transport. Or in Bruges, its work with the community and its friendliness scheme through a network of local shops.
If an urban environment is one of the main ways in which we interact, it must facilitate encounters for all people, and both the private and public sectors must be involved. A good example of this public-private collaboration, with this inclusive and community focus, can be found in projects such as Lugaritz and Usurbil. Two projects for innovation in care and housing models for the elderly promoted by Matia, together with a range of public entities, which are expected to open their doors next year, but which are already working on this strategy of care and community networks that is so necessary to favour the urban transformation we are talking about.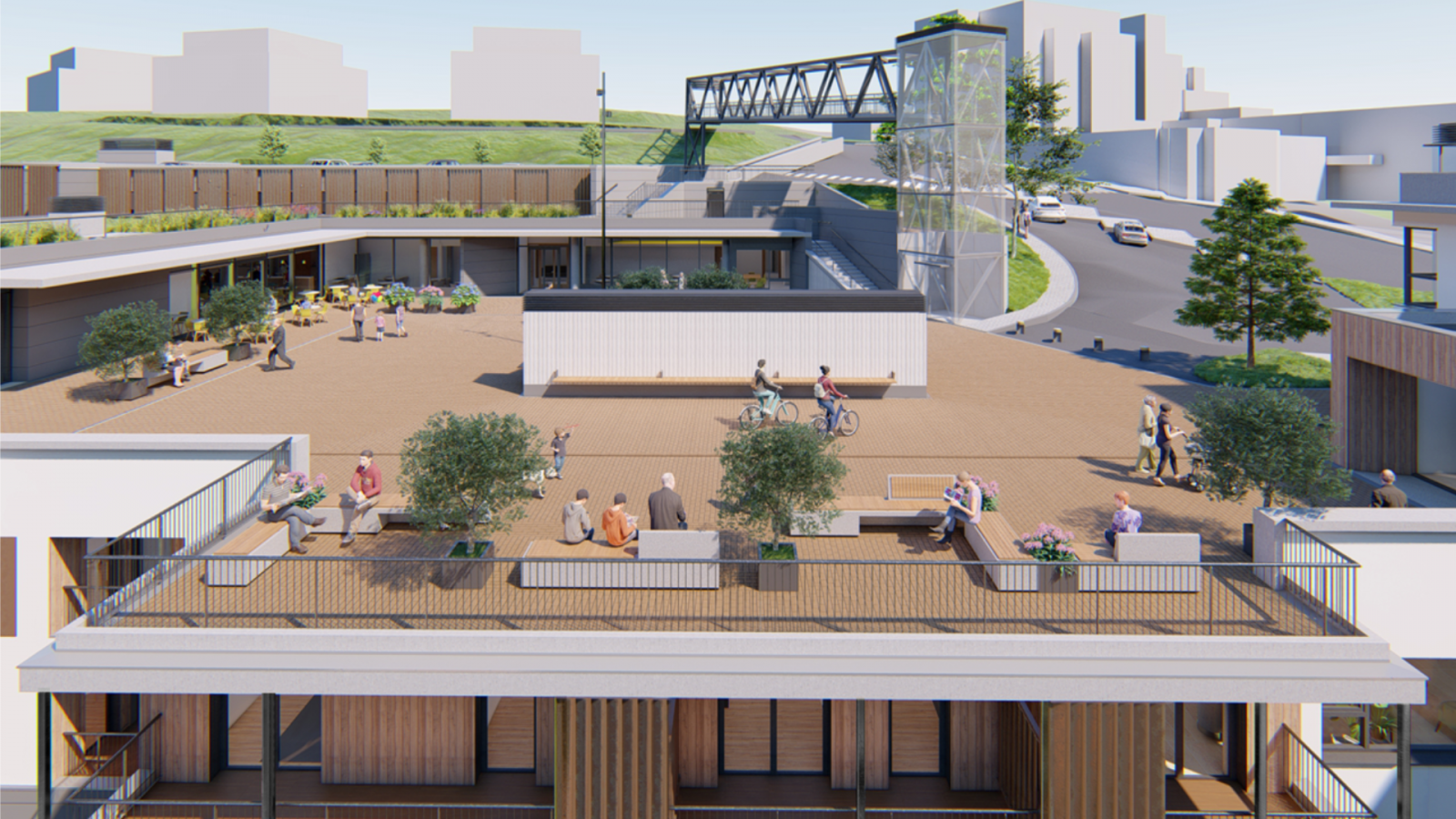 Image recreating the design of the future Lugaritz square in Donostia-SanSebastián
Health and well-being
In the aftermath of the Covid-19 pandemic, we have all questioned health in cities. But the pandemics of the 21st century are not only contagious, they are those resulting from a sedentary urban lifestyle, exposed to high levels of pollution, noise, stress and increasingly extreme heat and cold. Thus, the latest measures in this context question the space for vehicles in cities, and are committed to solutions based on nature, energy efficiency and the use of cleaner energies. In a global approach, we can summarise it in three main lines of action recommended in the Healthy Cities Planning Guide of the Ministry of Health and the FEMP: cities and neighbourhoods for walking, introducing nature into the city and generating spaces for coexistence.
Time, distances and memory
With these three components we are left to think about a fourth dimension, which is time. Our rhythms have accelerated, even more so in large cities. However, the most innovative projects are looking for ways to solve urban regeneration at the scale of the neighbourhood, at distances of proximity. From Clarence Perry's Neighbourhood Unit in the 20th century, the 20-minute city in Melbourne, the quarter-hour city in Paris, the district that allows its inhabitants an extra hour in Helsinki or Salvador Rueda's superblock in Barcelona. The aim is to have more time for quality of life, which, in essence, is to have more time to share with other people and with what is commonly called "community". It is a paradigm shift in which, if distances travelled are mainly on foot, we will have more opportunities to observe our surroundings and interact with them.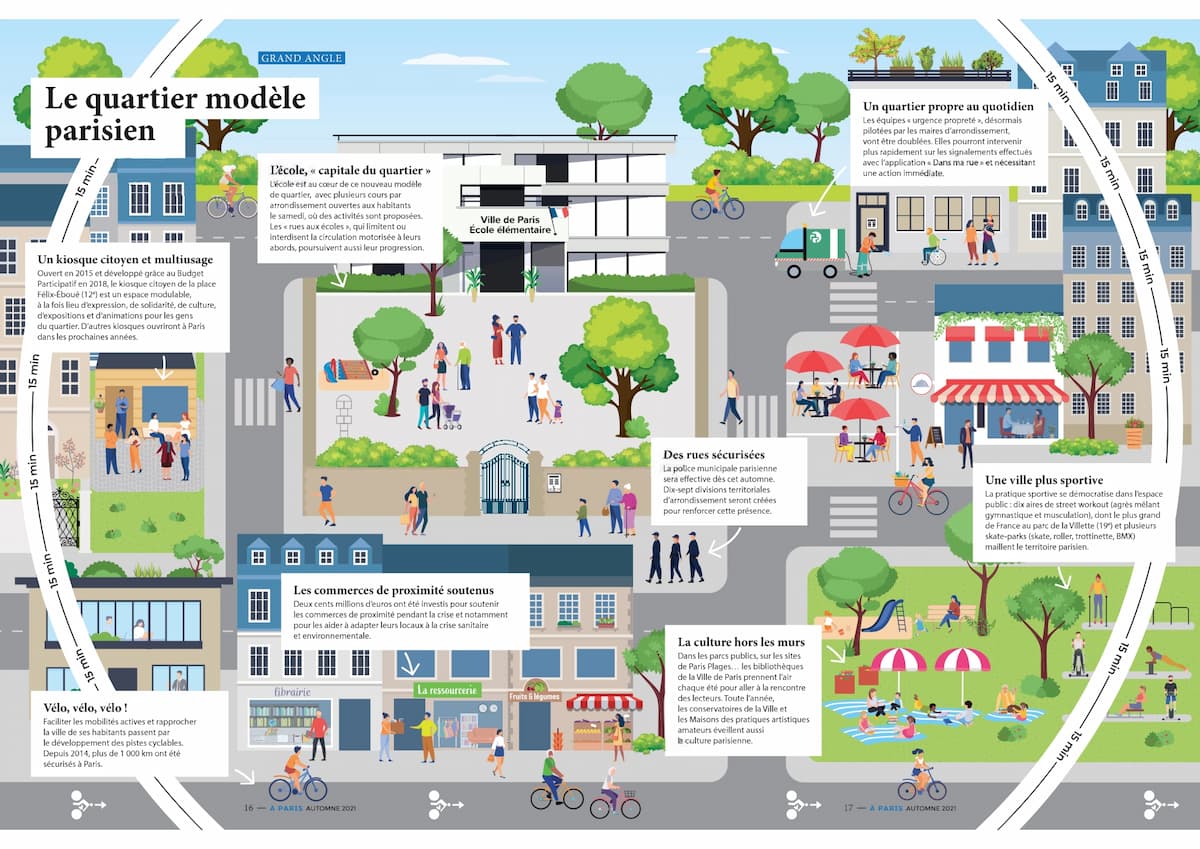 The model quarter-hour city district
Public space becomes an extension of our home or block, and it is there that we can meet and discover the other person, in this exercise of empathy and shared citizenship.
In this sense, the meaning of places takes on special importance, because they are the settings for our daily routines and activities, alone or in company.
In the Flanders region of Belgium, the essence of dementia-friendly design lies in the small scale, also applied to design. Familiar and safe environments, incorporating the elements of built heritage, symbols, landmarks... reminders of the collective memory that allow us to link one generation to another and give meaning to our existence.
Meaning and meaning of life
Aristotle already defined among the objectives of a city the creation of a safe environment for citizens and for them to be happy. Without going into a discussion of what a citizen was for the Greeks, we are left with the question of the ultimate purpose of the city. All of today's uncertainties, coupled with the hostility of some urban environments, make it necessary to ask the question: does our city make us happy and optimise the opportunities to be happy? Are we happy in our city? And when we are older, our environment is reduced to a space of closer proximity and we have much more time just to be. At that point, will our environment generate wellbeing for us?
Each city and each context will have an original and unique way of approaching this model of a more life-friendly city, but we certainly have to start walking towards that destination.
I would like to end with a quote, which advances this need to "involute" towards more human environments, to that proximity and contact that is so lacking in hyper-connected societies, and at the same time, devoid of affection, lacking time and space for companionship, accelerated societies that give shape to that liquid world, without human ties, of which Bauman spoke. "We must restore to the city the maternal and protective functions of life (...) which have long been neglected and suppressed. The city must be an organ of love" Lewis Mumford, The City in History.
Author
Researcher and Head of Architectural Design