Tania Trecet. Matia Fundazioa
Occupational Therapists. Promoting skills and stimulating autonomy to give meaning to life.
I am Maritxu, a woman born in Ormaiztegi but now I live in Beasain. My husband died two years ago and I have lived alone in our house for the last few years. Before I got married I worked as a dressmaker and I have continued to make some garments to order, but only sporadically. I have had two children and have helped to raise my grandchildren. I have enjoyed organising dinners at my house and I prepare what they say are the best croquettes in the world.
Today I woke up in the middle of four walls that I can't identify. They are certainly not those of my house. I feel lost and sad, and also very tired. I see someone sleeping next to me, but I don't know him. I get even more scared. I call my children who have always helped me when I have needed it, but instead of one of them appearing, a person dressed in white who I don't know comes in. The stranger sits down next to me and with both calm gestures and affectionate words, invites me to relax and close my eyes to rest and sleep.
In the morning the comings and goings of different people continue, all of them very kind, who help me to get cleaned up, take my vitals and do different tests. They tell me that I have come to this hospital to recover from an operation after having suffered a heart attack. I let them do it.
At 11 a.m. a young girl comes to my room who, by the way, must be the age of one of my granddaughters. She tells me that her name is Ainhoa and that she is going to be my occupational therapist. And I say to myself, what could that be? The truth is, I have no idea.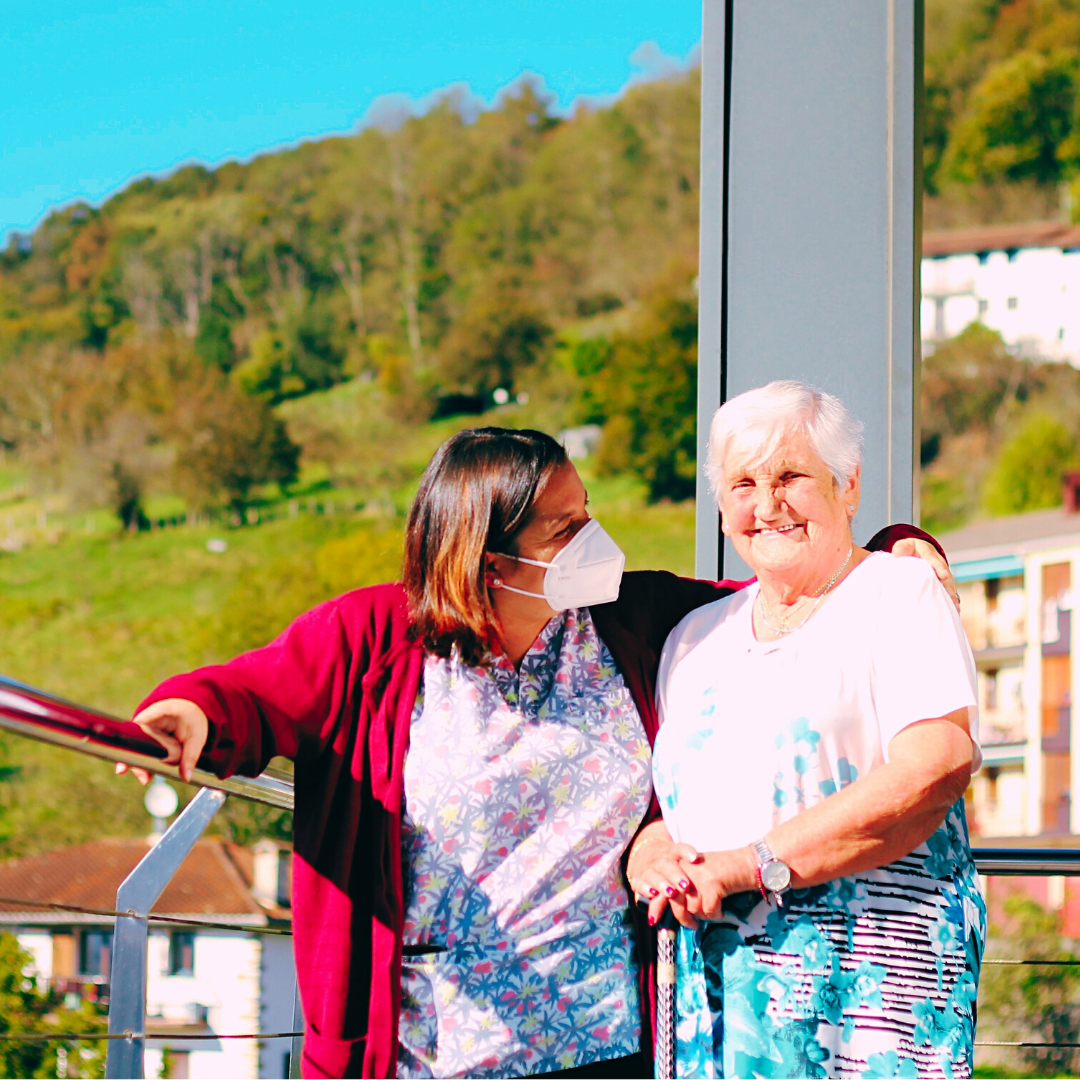 Ainhoa takes me to her room and explains to me everything that has happened to me, as well as the work that she hopes to develop with me. She tells me that we will work on orientation and memory, and that after the operation I am somewhat confused. It's true. At least that's how I feel. She also asks me what kind of hobbies I have had, and what I would like to do in the hospital. According to her, continuing with our hobbies is good for our state of mind, but I tell her that I stopped sewing because of the arthrosis I have in my hands. We agreed that we will try to work on mobility, arm strength and balance, so that when I recover a little we can promote self-care. It sounded good to me. I thought that I didn't need anyone to clean me before and I would like it to be like that again.
A month has passed. I feel very well and I am no longer lost in the hospital, nor am I so sad and thanks to Ainhoa's work I have been able to sew in a frame adapted to my needs. Day by day I have been recovering my strength and balance through the exercises that she has been showing me (moving objects at different heights, manipulating all kinds of nuts, bolts, clamps...). She has also taught me to take a shower sitting on special chairs that I didn't even know existed, and she has shown me that, using sponges with handles, shoehorns and socks, I can recover and maintain the autonomy that I used to have.
However, I am very old and my health is not what it used to be. After talking to my children I have decided to move to live in a residence, and at that moment Ainhoa came to my mind... Will there be an occupational therapist there? Who will help me learn new tricks to keep me autonomous to take care of myself when I need it? Who will facilitate those activities that I would like to do adapted to my abilities? Who will take care of keeping my body active so that I don't lose what I have gained?
---
Maritxu's story is a fictionalised story with which we seek to give visibility to a figure such as occupational therapists. Professionals dedicated to promoting the health and wellbeing of people through occupation, with the main objective of promoting the abilities of people with physical, mental, social and/or sensory impairments, encouraging their social participation in everyday activities and trying to preserve as much autonomy as possible.
At present, these functions are carried out in different services of Matia Fundazioa, such as the hospital, psychosocial, functional diversity, some residential centres and in the dependency and disability assessment service. But we have much more to offer. But we have much more to offer, don't you think?
Happy OCCUPATIONAL THERAPY day to all our colleagues!
Author
Occupational Therapist in Psychogeriatric Unit. Bermingham Hospital. Matia Fundazioa
Author
Occupational Therapist at the IZA centre. Matia Fundazioa
Author
Occupational Therapist. Outpatient Neuro-rehabilitation Unit and Psychogeriatric Unit. Bermingham Hospital. Matia Fundazioa
Author
Occupational Therapist, Rehabilitation Unit. Bermingham Hospital. Matia Fundazioa
Author
Occupational therapist at the Petra Lekuona Residential Unit for People with Severe Mental Disorder. Matia Foundation