Art and culture for enjoyment in dementia
Art is an inseparable part of our nature, our emotions, our sensitivity, our creativity, our curiosity. It leads us along unexplored paths in our mind. It is the perfect way to transmit feelings and an amazing communication tool. In a way, it forges who we are. Our identity.
And all of this, of course, is reflected in our health and well-being. Reports such as this extensive review by the World Health Organisation provide good evidence of this.
Curiously, something that has a profound sense of vitality is losing its place in our lives over the years, and as we get older, our participation in activities of this nature decreases. And as might be expected, this disconnection is further exacerbated by factors linked to inequity and difficulties in accessing these resources, something that people with dementia and their families know all too well.
And here I can speak first-hand. My father, who lives with Alzheimer's, was unable to cross the threshold of a museum because he refused to pull up his mask. This would probably not have happened if the person conveying the message had done so in a calm and friendly manner, and with the understanding that, in this case, my relative was not aware of the existing pandemic situation from his memory.
Beyond this small anecdote, museums, libraries, theatres, cultural centres, as well as any space linked to the custody, exhibition or cultural and artistic representation, should ask themselves about their role in facilitating the enjoyment of their collection and works for people with dementia. Do we prepare exhibitions to facilitate their understanding and enjoyment? Do we know how to encourage appropriate communication with these people? Do we know if our spaces are adapted to their particular circumstances? Do we propose for them ways of participation and generativity with the artistic activity that is treasured there? And perhaps most importantly, what do we know about them? do we know them? are we aware that they are an avid audience and a signifier of the value of these spaces?
Observational evidence indicates that the incorporation of people with dementia as protagonists in cultural and artistic activities contributes to favouring their self-esteem, encourages their sense of belonging to the community, to the environment, and, fundamentally, completely buries that image of bodies, empty beings, alien to the world, without creativity or capacity for enjoyment, which tends to hover over the social imaginary of people living with a diagnosis of dementia. You only have to watch and listen to Tony Benet singing this duet with Lady Gaga or enjoy a good read like one of Wendy Mitchel's books to know that this is not so.
Those of us who accompany the daily lives of these people know that, as Andy Burnham, Mayor of Manchester, points out: "caring is helping people to do what they love, allowing them to connect with their passions, with what animates them in life". It is therefore a permanent search for meaningful activity, based on the recognition of the diversity and capabilities of each one of them. This is even more relevant for people with dementia.
This is a topic that we wanted to address from the European project "Dementia in Cultural Mediation", an initiative that has brought together a multidisciplinary group of researchers and cultural mediators from four European regions who have mapped existing experiences, extracting from them a series of keys and methodologies that facilitate the replication or generation of new proposals in the European context. Among the materials resulting from this project are some thirty videos (with their corresponding support guides) that gather information on practices as diverse as: a choir, contemporary dance seminars, literary workshops, photography, poetry, etc. In addition, the report Towards a dementia-inclusive society. An art?, a publication with recommendations to help build bridges between art, culture and dementia.
For those of you who are curious, an event will take place on 8th June at the Aquarium in Donostia-San Sebastián where we will present the main conclusions of the project, accompanied by the staging of two of the practices included in it.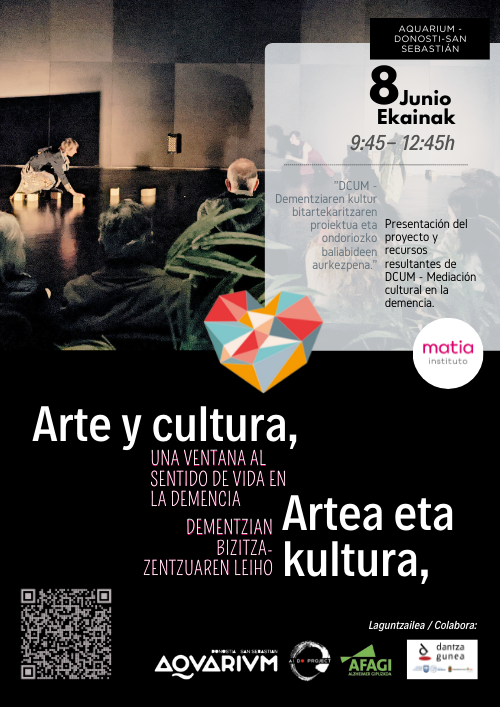 Recovering these spaces for participation and encounter appeals to all of us, and is, by all means, a fabulous stimulus for the enhancement of the value of people who are leaving behind memories along the way but who have not lost the ability to enjoy that song that makes them follow the rhythm by tapping their feet, sigh before that canvas they never tire of contemplating, cry with emotion after reciting a verse by their favourite poet, or smile their best smile while learning to play a musical instrument.
We are talking about people, yes, not patients. People with rights and desires to maintain a link with the artistic plane. People who do not forget art, but who, on occasions, art has forgotten them.
Suggested readings for organisations in the field of culture and art:
Suggested readings for care organisations:
Author
Content Manager on Matia Fundazioa