The invisibility of home care
As the days go by, the threat baptized by the WHO as "Covid-19" has taken on dimensions that we would have found difficult to imagine, especially with older people in fragile situations and/or in need of care.
The media have focused their attention on residential centres, spaces that have been severely punished by this pandemic, mostly showing their shadows and not in a very respectful way. It has been in this area that efforts to alleviate the impact of the infection have mostly been focused.

However, most of the dependent elderly continue to live where they want, in their homes (three out of four in Gipuzkoa, according to recent data from Behagi). The people themselves and the entire support network (family members, ODS professionals, personal assistants, employees in the home and care sector, interns...) that accompanies them are situated in this environment.

The privacy of homes and the confinement that accompanies us these days have undoubtedly accentuated the invisibility of this area of care.

The consequences of the decisions derived from the declaration of the state of alarm are many and directly affect the deterioration of the well-being of these people and their immediate environment. By way of example, the closure of day centres calls into question the maintenance and guarantee of essential care, especially when, for safety reasons, it is accompanied by a reduction in the support provided. The same happens with the emotional support derived from the accompaniment, such as the visits that volunteers from different NGOs regularly make to lonely elderly people.
What's happening these days in the homes.

From Matia Fundazioa I am close to the people we accompany in their own homes and to those who have been left without the possibility of going to their day centre. I also share testimonies with colleagues who run the SENDIAN program and other entities that provide services in the home environment.

We know that we are in front of a group of population that has a high dose of resilience and acceptance of the situations, so we observe a very high degree of adaptation, of them and of their care environment. All this without minimizing the suffering generated by the difficult daily life of very complex cases, which require a comprehensive approach, not sufficiently guaranteed in the current model of home care.
People who have limited personal autonomy, especially those who suffer from cognitive impairment, find it difficult to understand measures such as confinement and break with their usual routine. This generates situations of anxiety and confusion that affect coexistence and their own well-being.
In the conversations we have with families, we discover that these changes have a direct consequence on their own health, both physically and emotionally. Relatives who take over the care or cases where the care is intensified, resulting in overload and giving up the usual routine of the caregiver. In short: 24-hour care without interruption until it is not known when.
With regard to direct care professionals, there is concern, fear and mixed emotions. They are at the crossroads of offering personalized and close care, while guaranteeing protective measures to prevent contagion. The very physical distancing, wearing a mask and its consequences on the close relationship... Are we offering them the recognition they deserve? Do they have the guidance and accompaniment they need when faced with such a complex task?
Still in invisibility are those known as "interns". Heroines available 24 hours a day, seven days a week. In some cases, due to confinement even without interruption, they lose their right to rest.

How we deal with the Covid19 context from home care
The current situation of exceptionality with which we live should not be a reason or excuse for not offering all home care professionals, in their different modalities, the necessary support to ensure their physical and emotional safety, as well as the resources and training needed to provide good care and achieve their own welfare, in this important role.
Because of this, and gradually, responses to some of these needs have been activated. An example of this can be found in the following actions:
Telephone calls to elderly people who live alone and/or accompanied by other people also of advanced age, to know their reality and act if necessary. These are services set up by the local administration, such as "Lagunkate", an initiative promoted by Donostia City Council through the Donostia Lagunkoia initiative. This telephone contact has also been provided by different NGOs devoted to affective support, such as Nagusilan, Adinkide, Telefonica de la Esperanza... Finally, it is important to point out the social and health coordination initiatives, between primary care and social workers, through telephone calls to elderly people in order to prevent contagion (Pasaia Antxo).

From the Provincial Council of Gipuzkoa, psycho-affective support and tools for training are offered to family members who are beneficiaries of the PECE and family members who care for them at home (habitual carers or those who start or intensify their function after the closure of the day centres).

The requirements for accreditation of profiles for hiring personal assistance have been made more flexible. A measure aimed at ensuring that care reaches all the homes where it is needed.

On the other hand, we observe how different social initiatives have emerged to support the community in purchasing, or a service for home delivery of medication offered by DYA and other organized groups .
And what have we been doing from Matia?
In this house we contemplate accompaniment from the biographical and integral knowledge of each person, which allows us to offer personalised attention that is committed to safeguarding the self-determination and dignity of those we accompany.
As far as we can, we have tried to continue with the same care philosophy, adapting ourselves to the new scenario brought about by the arrival of this coronavirus.
In this line, BabeSarea was set up, a project whose objective is to protect and promote the well-being of all those involved in care in the home environment, and which has allowed us to work on aspects such as:
Adjust the intensity of attention and care to the new reality.
To favour coordination with the doctors and geriatricians of reference for follow-up.
To articulate safe-conducts for exits in very critical situations.
To provide informative materials with guidelines for emotional management in a situation of confinement in the home, among which we find a series aimed at caregivers of people with dementia.
Facilitating contact for family members with the psychological support service offered by the Provincial Council.
To manage proximity services such as home hairdressing in situations of imminent need; orientation to support; articulation for contacting NGOs and to make available social initiatives aimed at leisure and entertainment such as live concerts via online.
Nothing we talk about is new.
Experiences such as those of Etxean Ondo domiciliary or Etxean Bizi (*), have opened the way to the definition and development of a new model of home care based on the personalisation and integration of services. Both are proof of the institutional commitment to improving the welfare of people whose situation is called complex and who demand to continue living in their home and neighbourhood for the rest of their lives.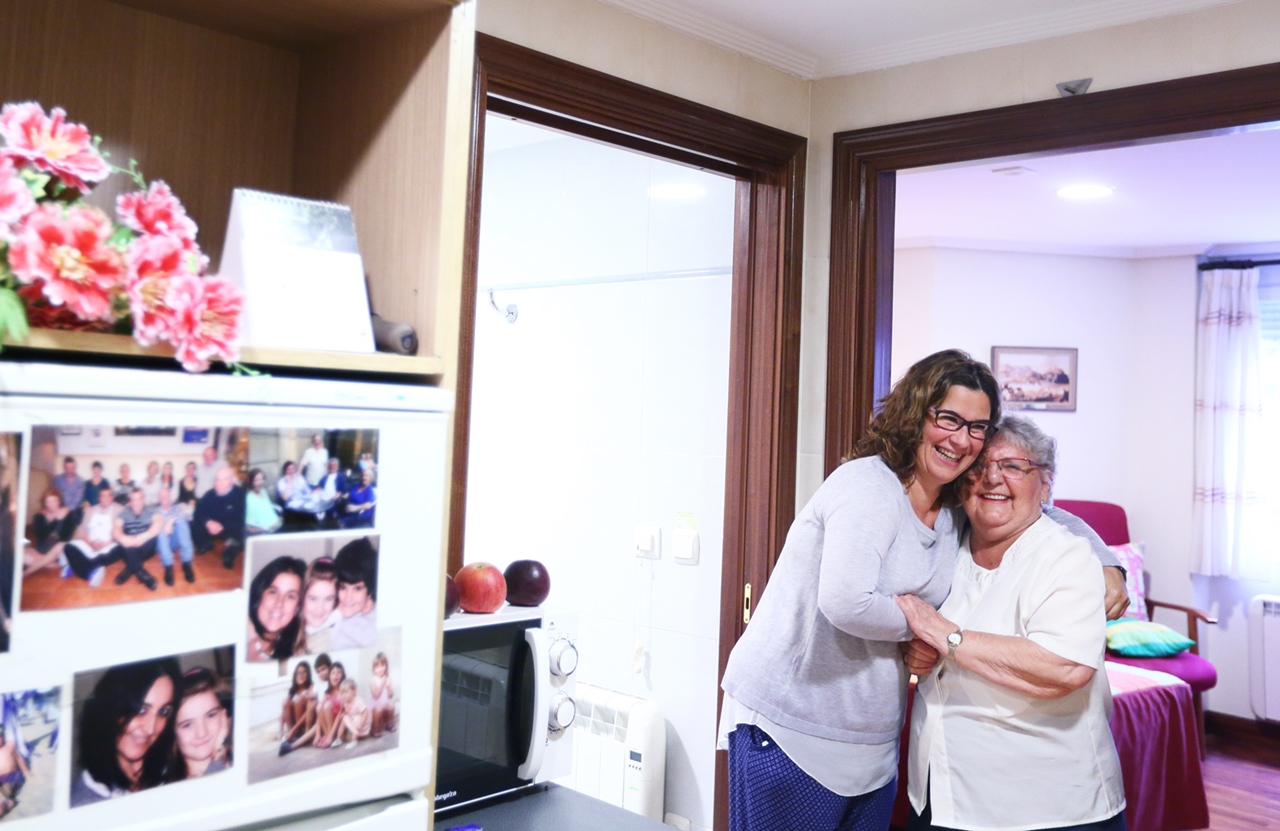 But this is not just a commitment of the institutions, but of the whole society. That is why we are witnessing the emergence of initiatives and actions that call for improvements in the same direction.
A good example of this would be the statement in favour of a necessary change in the long-term care model. A document that has been illuminated and endorsed by a large group of experts, now numbering more than a thousand, which emphasises the need to adopt a new model of care, promoting care at home, and aligning itself with the wishes and preferences of people who need support in their daily lives.

A position in favour of comprehensive and person-centred care, from the incorporation and articulation in a coordinated manner of all the agents involved in care: families, social services, the health system, personal assistants, domestic workers, interns, volunteers and community initiatives and the proximity services that are essential in care.
In future issues of our blog we will invite you to learn more about the experience of projects such as BabeSarea or EtxeanBizi, and how to advance in this process of transformation of home care. While we stay with the following reflection:
It is said that crises bring out what has been latent below the surface. Will COVID19 be the trigger to make the reality of care in the home visible? Will we be able to see it as an opportunity to learn, draw conclusions and act accordingly?
(*) Currently starting its second phase with the Provincial Council of Gipuzkoa, in the context of Adinberri and Pasaia City Council
Autora
Directora de Atención Domiciliaria y Comunitaria