From Matia we feel the need to share a series of guidelines for the emotional care of carers and relatives of people who require support and who are living the current situation of confinement both in a centre and in their homes.
10 RECOMMENDATIONS IF YOUR OLDER RELATIVE IS IN ISOLATION AT HOME
Maintain a daily contact routine. through a phone call, video conference or any other secure means for you and your family member.
Try to maintain a positive and affectionate tone. Reassure him/her about your condition and the condition of the people he/she cares about.
Encourage him/her to do his/her personal care routines. Hygiene, clothing, medication, some exercise,... If you know of any meaningful activities she does, invite her to continue them.
Make sure she eats right and has her medications. Send her the food, if necessary prepared, and taking into account her preferences.
Entertainment is important. Give her the magazines, the newspapers she likes. You can also bring her a movie or, if she likes music, a CD.
Send her photos of family members, voice notes, via WhatshApp... If she does not have WhatsApp you can send her a family photo with a message of encouragement on the back. Send them along with food and medicine
Remind him of his strength in dealing with past situations. Older people carry a large rucksack of experience with them and many have overcome difficult situations in the past.
Encourage them to contact friends and neighbours. Many will be in similar situations and can share their experiences and concerns with each other.
Listen to them and answer their questions. Give her the information she requests that will help her.
If possible, divide this contact with the older relative among several acquaintances. Its good for the person and also for the rest of the family.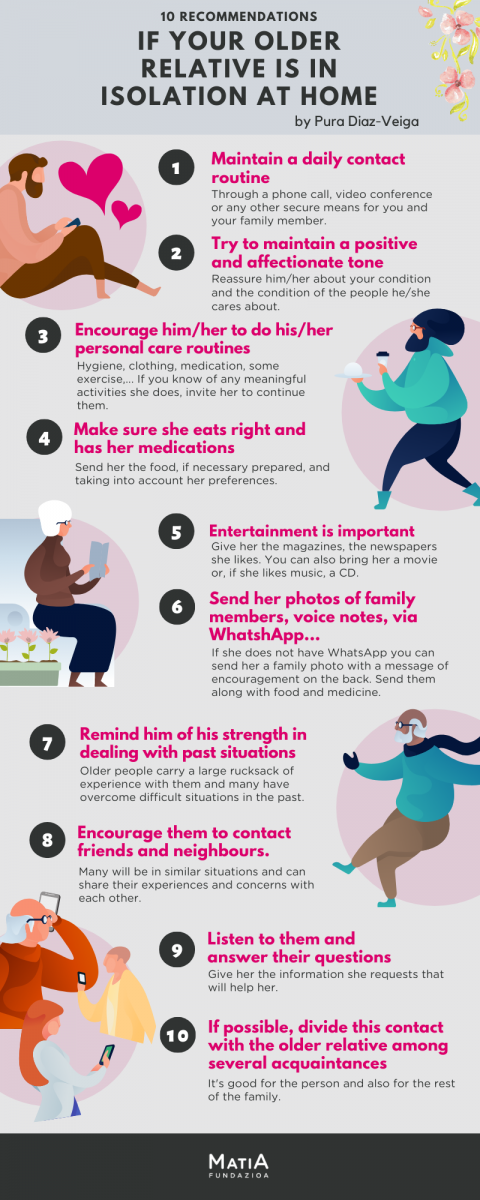 10 TIPS FOR THOSE WHO CANNOT STAY AT HOME BECAUSE THEY ARE CARING
Focus on the day-to-day. Life goes on for you and the person you care for.
Never more than now does the team matter. Consult, share and agree.
Be aware of your abilities to solve situations. Trust yourself.
An exceptional situation requires exceptional ideas, in good care too.
Ask for help if you need it. We are part of a team that works best when it supports each other.
Take, whenever you can, small breaths. Rest is an essential part of good care.
Don't forget. Every day is a triumph. Adding to negative thoughts won't make normality return any sooner.
Eat well, rest as much as you can and enjoy your people. The latter by taking the necessary precautions.
We take care of ourselves, we take care of lives. Mutual and reciprocal care helps us to develop our work: to accompany lives, lives in progress.
Receive the gratitude of the people you care for, their families and that of citizens committed to good care.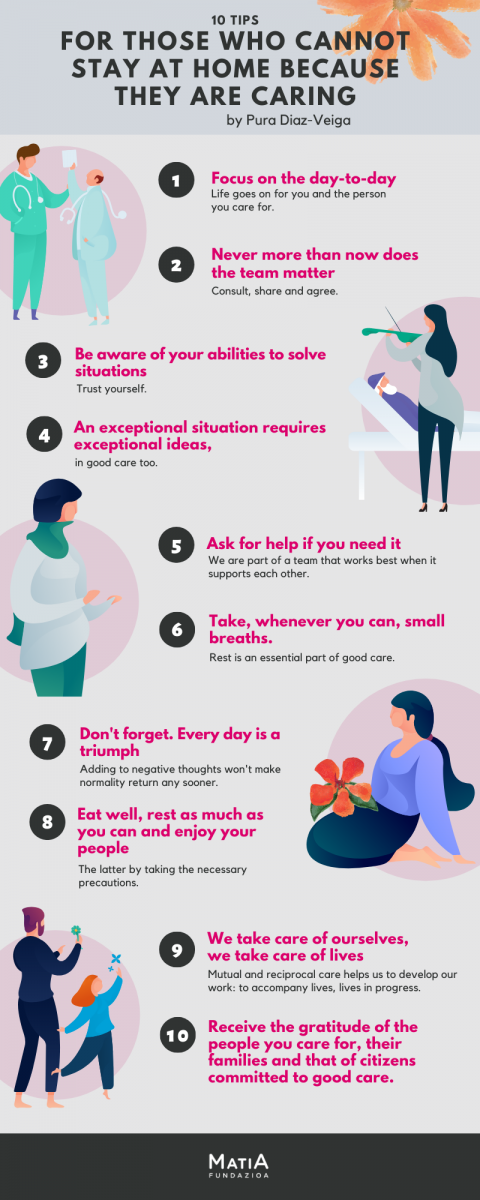 10 Recommendations. If you take care of a person with dementia and cannot leave the house
Keep the routines the usual schedule, activities and breaks from day to day.
Even if you can't go outside*, it's important to keep your body going. Walk inside, stretch gently, move even a few steps.
Encourage your caregiver to participate in whatever is possible and meaningful for them. It may feel good to get involved in things like clapping on the balcony, bingos or other community actions.
Take care of medication and food. Don't forget to include something special on the menu from time to time.
If the person you care for asks questions or shows concern, respond with simple, reassuring and practical messages.
Try to keep the atmosphere at home quiet. Watch a film on TV or YouTube, listen to entertainment programmes on the radio, communicate with people you know on the tablet... will help you enjoy a good time.
Music is always a good ally. You can take advantage of it to remember songs that you like or, if possible, to dance. It will serve as a good physical exercise and will help to maintain the mood.
Taking the air together through the window, or on the balcony is healthy and helps to maintain contact with the outside world.
Remember that humor and the expression of affection are good allies for a good day-to-day life.
Take care of yourself. Talk to friends, share with other caregivers, set aside some time for yourself and ask for help if you need it. Your well-being guarantees that of the person you care for.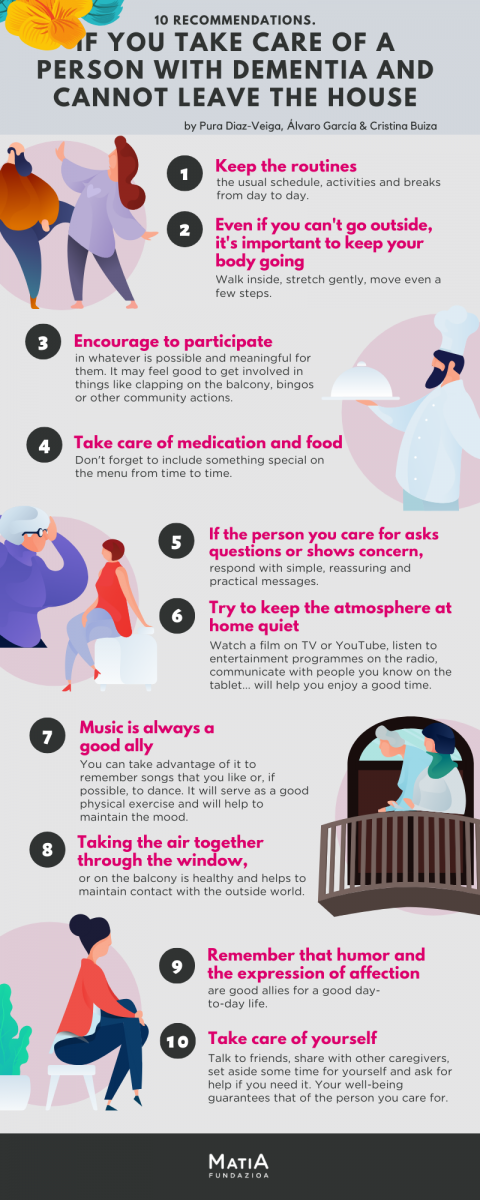 9 RECOMMENDATIONS IF YOUR FAMILY MEMBER IS IN HOSPITAL ISOLATION
Remember that this separation is not your fault. Although as a caregiver you want to do everything you can for your family member and it is difficult to accept what you cannot, it is important to accept the limitations of the situation and remind yourself that it is the external circumstances, not your fault, that prevent you from being by their side now.
Practice being calm. Letting ourselves be carried away by an excess of negative emotions creates added suffering and does not allow us to think clearly. It is normal to feel negative emotions. Accept them. Then practice a relaxation technique, breathing, yoga or mindfulness to help you stay calm. By simply pausing for three deep breaths when you remember, you help regulate emotional distress.
Trust that your family member is in good hands. Realize that, even though you are not there, your family member has people around, professionals who provide the care he or she needs.
Trust that your family member is able to adapt to the situation. Human beings have a great capacity to adapt to adverse situations. When a family member is sick, we often think about their vulnerability; but let's not forget that they also have resources and can develop even more inner strength in this new situation.
Reflect on how you would like to handle this difficult situation. You too are in the process of adapting. Ask yourself the question of how you would like to handle this situation and make it your personal goal to achieve it little by little.
Communicate with him/her. If you have the possibility to phone or send him/her letters, use these alternative ways of communication. If you can't reach them now, write letters or videotape them, etc., with the intention of being able to give them these at a later date.
Instead of worrying, connect with positive feelings about your family member. It's normal to have repeated thoughts of worry. Start by accepting them when they appear. To keep it from overwhelming you, connect with positive memories and the feelings of affection and/or gratitude you have for your family member. If you have religious beliefs, or spiritual beliefs in general, you can pray for him or her or use visualization.
Give yourself permission to rest and replenish your strength. The role of caregiver leads to fatigue and sometimes even exhaustion. However, we take much better care when we have energy and are rested. Take this opportunity to get your strength back now by resting and caring for yourself.
Learn to accept what you can't control. In general, we like to control as much as we can. However, there are circumstances in life that are beyond our control and are simply as they are. The more we accept life as it is, the less we suffer.